Which is the Best Yamaha Digital Piano?
Yamaha started making pianos in 1900 and since then, the Yamaha name has become synonymous with some of the best pianos around. Yamaha also produces some of the best digital pianos that are currently on the market.
There are many reasons to buy a best Yamaha digital piano. This is because Yamaha always gives great attention to detail and builds quality musical instruments. They are also used by professional musicians in some of the greatest concerts halls in the world. Even though the digital pianos are of a high standard and quality, they are also very reasonably priced.
When choosing a digital piano, it is very important to understand the difference between Graded Hammer Standard (GHS) and Graded Hammer (GH). There's also GH3 and Natural Wood (NW).
Graded Hammer Standard is inferior to Graded Hammer. GHS is usually featured in entry level digital pianos like the Yamaha P70, P85 and YDP-S30. If you want a better response buy a digital piano with Graded Hammer Effect.
You will find GHE in mid level digital pianos like the Yamaha P140, CP33 and CP300. Next in line there's GH3 which is better than GHS and GH (or GHE). Examples of pianos with this feature are the Yamaha Clavinova CLP230-270 and CVP403+.
The highest level is the NW – Natural wood (white key) action. You will find the NW feature in models like the Yamaha Clavinova CLP280 or CVP409, and some grand models like the CVP309GP/CGP1000 and CLP295GP.
Yamaha has been successfully serving artists across the musical industry for several decades now and never fails to surprise the music connoisseurs.
Yamaha has been innovating across instruments to cater to the needs of both beginners who are just starting to learn and the professionals who have reached the stage of music creation.
---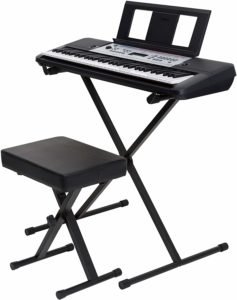 ---
For individuals looking for a reliable, affordable alternative to traditional console and grand pianos, Yamaha digital pianos offer a better way to keep your instrument in tune. Engineered to reproduce perfect pitch and resonance with each key, their digital audio technology has improved to the point where these Yamaha digital keyboards emulate the sound quality of a traditional piano.
As a result, digital pianos are now a solid option for those learning to play the instrument or who want to add a keyboard to their home at a lower upfront cost. Also known as Clavinovas, Yamaha digital pianos are considered among the leading models in the industry for their careful craftsmanship, authentic weighted hammer-key action and full 88-key layout.
With options including pedals, sound effects, recording and feedback, the instruments are great for musical composition and playback alike. Whether you are an experienced musician or are just rekindling your interest in music, a digital piano from Yamaha can help you master chords, scales and classic tunes from the comfort of your home.
With the advent of the modern electronic music industry, digital piano technology has improved to match the audio quality of classical pianos. More affordably priced than string and hammer based instruments the pianos base their sounds upon MIDI (Musical Instrument Digital Interface) outputs which can perfectly reproduce audio signals.
The actual sound comes from an onboard memory which notes the exact scaled sound of each of the 88-keys, allowing players to reproduce the sound quality of a traditional console piano. The leading digital music manufacturers include Yamaha, as well as well known brands such as Casio, Kawai, Kurzweil and Roland (Amazon keeps a list of the best-selling keyboard and pianos here).
Musicians today can select from a wide variety of models starting at prices as low as a few hundred dollars all the way into the thousands. Designed to both look and perform like traditional upright pianos, nearly all of the leading music manufacturers on the market today produce digital pianos.
What separates each model from another is the quality of the casing, the application of pedals and effects, the touch sensitivity of the keyboard and unique input-output mechanisms such as recording.
Many modern digital pianos also feature enhanced sound profiles which allow players to collaborate with musical files in real-time for complete collaboration. Yamaha has been at the forefront of extending the capabilities of digital pianos to include improved polyphony, the unique resonance produced by playing multiple keys.
Benefits of a Yamaha Digital Piano
Yamaha pianos are very reliable, sturdy, and time tested products that are always guaranteed to satisfy the customer. Their engineers have spent countless hours working on specific technology such as graded hammer action key sets, proprietary wave sampling technology, a wide variety of tone and voice selection, along with many other features.
The variety contained in each instrument coupled with the value in price due to the combination of features makes Yamaha pianos easy sellers on the market.
The benefits to owning a Yamaha portable keyboard, digital piano, stage piano, or workstation can be long lasting and enjoyable. Yamaha pianos contain high value and own a special place in the market, so you can always be sure if you want to part with your machine you should be compensated.
Yamaha pianos also have the latest technology on the market, so you will never feel like your digital piano is somehow behind the times as far as music technology is concerned. In fact, in many cases Yamaha pianos are the leaders in the field concerning innovative technology, and engineers from other companies have studied and mimicked the expertise found in their products.
Another good reason for buying digital pianos is the fact that they are so much cheaper than their acoustic counterparts. A Yamaha acoustic piano can easily cost over $50,000.00 while some of the cheapest Yamaha digital pianos, like the Yamaha NP-30 costs as little as $269.99.
Others include the Yamaha P95 for about $549.99, the Yamaha P155 for $999.99, Yamaha Arius YDP-V240 for $1799.99, Yamaha Arius YDP141 for $1049.99, Yamaha Arius YDP161 for $1349.99, Yamaha CP33 for $999.99, Yamaha Arius YDP-181 for $1599.99 and Yamaha CP1 for as much as $4999.99.
As usual, the more money you pay the better the keyboard. It would off course depend on your budget. There are cheap and more expensive models for you to choose from.
All of the digital pianos that Yamaha produces are high-quality products. This is even true for their entry-level digital pianos. Their digital pianos contain samples from their top of the range acoustic concert grand pianos.
Yamaha also makes sure that the piano keys are as close as you can get to playing a top of the range grand piano. This is achieved by their graded hammer action technology and giving the keys an ivory feel to them. More at https://www.brandreviewly.com/best-digital-pianos/.
Yamaha also produces digital pianos for players with all levels of experience. So, if you are just starting out learning the piano, or if you are already a professional piano player, you will find a model to suit your needs and taste.
Yamaha also keeps to the forefront of digital technology and their newest models always have the latest in innovative technology. Yamaha has become the digital piano brand that others copy.
The number of keys a keyboard comes with is very important when choosing a Yamaha keyboard. While many Yamaha keyboards come with 61 and 76 keys, these digital pianos all come with 88 keys, just like an acoustic piano. If you're looking for a digital piano with 76 keys, check out the Yamaha NP-V60 Piaggero or Yamaha NP-V80 Piaggero for about $329.99 and $399.99 respectively.
Yamaha digital pianos are heavily focused on the piano sound. They don't have as many features as Yamaha arranger workstations. They usually don't come with accompaniment features and many of them don't have track sequencers. You must pay careful attention when choosing your keyboard.
If you want many sounds and a wide range of features, look elsewhere. But if your focus is on a piano alternative, a digital piano from Yamaha is the best choice. If you're learning to play the piano and on a budget you can look into one of the cheaper models. More at https://www.brandreviewly.com/the-best-yamaha-digital-piano-that-you-can-purchase-today/.